About Greg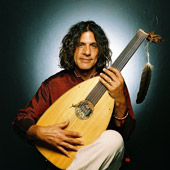 It is a pleasure to welcome you to the official 'Greg Hadjiyorki Georgiades' website...a site filled with interesting facts and a variety of musical content representing Greg's wide approach to music through the use of stringed instruments including electric guitars, steel string acoustic guitar, nylon string flamenco guitar, bouzouki, oud (North African fretless lute), oudtar (hybrid guitar/oud cross) and sarod (fretless steel string Indian classical instrument).
There are also examples of this adventurous attitude in the many collaborations that Greg has been involved with over the years up to the present. These include recordings on both CD and DVD of his own compositions and stylistic contributions on many of South Africa's top artist releases including works by Simphiwe Dana, Miriam Makeba, Madala Kunene, Jeff Maluleke, McCoy Mrubata, Velli Shabangu, Choppa, Tony Cox, Syd Kitchen, Thapelo Khomo, Anna Davel, The Aquarian Quartet, The Jazz Hounds, The Mutant Harmony Trio, The Sur Bandits, Ashish Joshi, Marc Duby, Strings & Skins and metal group Not My Dog.
Greg, accompanied by Ashish Joshi on tabla and percussion, has also done some really interesting live work with DJ acts such as Crushed & Sorted, DJ Bob in Decks Strings & Skins, as well as The Blunted Stuntman in shows around South Africa.
Greg has further contributed to the South African music scene by performing live with many of the artists listed above and also with international names such as French trumpeter ERIC TRUFFAZ, Indo-French sitarist BRIGITTE MENON with her group MUKTA, FETHI TABET the Algerian oud player and vocalist, French alternative jazz group NO JAZZ, renowned USA guitarist BOB BROZMAN, and RENE LACAILLE of Reunion.
Feel free to wander around the site and enjoy what is on offer from a visual and musical point of view. There is also the opportunity of ordering music CD's/DVD's or just enjoy the window shopping experience while finding out more about this 'evergreen' contributor to the Southern African music scene for the last 30 years.
'FUN & SPIRIT!'
How it started...
Greg Hadjiyorki Georgiades, born and raised in Pretoria, is an extraordinary multi-instrumentalist, playing the north African fretless lute (oud), guitar and bouzouki. He composes an intoxicating hybrid of north and South African ethno-grooves that cook under vibrant melodies. Over the years, Greg has collaborated, performed and recorded with significant artists in the South African music scene, such as Jeff Maluleke (on Jeff_s award-winning album Juliana), London-based percussionist Julian Bahula, renowned producer and keyboardist Thapelo Khomo and singer/songwriter Simphiwe Dana (on her album Zandisile). Greg is also known and recognised for his work with the Mutant Harmony Trio (with Marc Duby on bass and Wynand van der Walt on drums) the Jazz Hounds Afro-jazz project the Avaaz eastern and north African world music group (with Ashish Joshi on tabla and Priyesh Bhana on bansuri) and the acclaimed Aquarian Quartet (with Steve Newman, Syd Kitchen and Tony Cox).
He has also collaborated, performed and recorded with South African Music Award (SAMA)-winning metal rap group Not My Dog on their album Braaivibes. Greg has been working closely with Ashish for eight years, starting with Avaaz for two years and then going on to found the boundary-breaking Strings and Skins duo releasing an album of the same name. On an international note, Greg has collaborated and performed with renowned French trumpeter Eric Truffaz, Bob Brosman (USA), René Lacaille (Mauritius) and Mukta (France/India), featuring Bridgette Menon on sitar.
Greg has played across southern Africa at art and music festivals such as the national arts festivals of Potchefstroom, Oudtshoorn and Grahamstown, as well as music festivals like Oppikoppi, Southern Cross, Splashy Fen, Rustlers Valley, Arts Alive Johannesburg, Bloemfontein and the Awesome Africa Festival at Shongweni in KwaZulu-Natal, South Africa. Greg and Ashish have also travelled to present music workshops on African music improvisation at the College of the Arts in Namibia and in KwaZulu-Natal.
Greg has completed a DVD with the outstanding ethno-guitarist Madala Kunene, Ashish Joshi (tabla) and Ernest Mothle (acoustic bass) and is also busy with the VIVD AFRIKA project with McCoy Mrubata which they toured in 2006 throughout South Africa and a special performance at the Cape Town International Jazz Festival on March 30th 2007. In addition, a new Strings and Skins album has been completed and mastered by Chris Lewis.